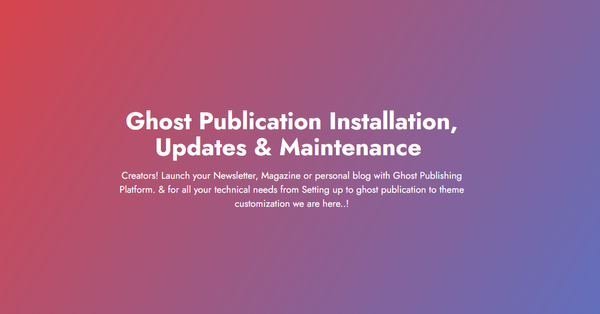 Ghost Services by wizards
We have created new productize service called wizards to provide one-off services for self-hosted ghost users. We have a talented team of professional designers & developers, Who are specialized in Ghost Publishing platform & can work in your time zone. From setting up ghost to building custom themes. Shoot us an email to [email protected] or visit:
Services We Provide
---
Installation
The installation service includes the following:
Preparing your server to host Ghost blog
Install Ghost blog to your server
Configure your blog
Theme installation
Configure Email for your Blog
Setting up the DNS to point your blog under your domain name.
Adding SSL certificate to secure your blog.
Tweak the server for better performance of your blog.
Get a Ghost blog up & running + Membership features configured, so you can send out email newsletter to your audience & have a paid subscription business.
Price: US$99.99 one off payment.
Shoot us an email if you have any question at [email protected]
---
Maintenance of your ghost blog
We are providing ghost maintenance services at affordable price. We will be responsible to keep your blog up & running. The Ghost maintenance service includes the following:
Frequent ghost updates
Instant support if something went wrong
Daily backup of your contents via custom script
Monitor the security measure of the blog
No contract, cancel anytime
Price: US$69.99 per month
---
Theme Customization
Sometime you buy ready to go themes but not every time its suites your need. We can customize your purchased theme to match your imagination. Add new features to your existing theme. Send us an email with your requirement's at [email protected] & we will quote the best price based on your requirements.
---
Custom Theme Development
We have expertise in developing custom themes for ghost. whether you already have a design or not. Based on your requirement's we can build you a pixel perfect ghost theme. which will be optimized for search engines. The best thing about wizards. is that, we provide the code & design rights to the clients after the theme is built.
Lets discuss your requirement's. Shoot us an email at [email protected] with your requirement's